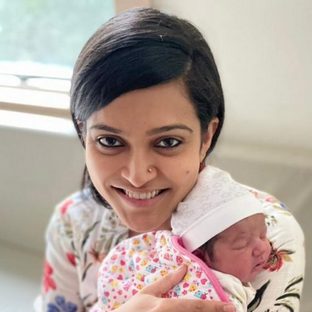 Anushree Kini, MSW
Board Director
Anushree Kini is a HungryTraveller extraordinaire, a creative storyteller, a performing arts instructor, a mother of two, a partner, and more.
Anushree has been deeply involved in Janhavi's plans to launch a birth centre in Bangalore since 2017. She is delighted to formally join Aastrika Midwifery Centre in 2021 as a Board Director, and is excited to be an integral part of a Bangalore-based movement for MotherBaby-Family Maternity Care.
Anushree is also a Board Director at AastarUrmika Health Systems (AUHS), Aastrika's non-profit arm. At AUHS, she uses her background in social work and legal justice to contribute to Aastrika's mission of increasing access to high quality, respectful maternity care for 25 million women annually by 2025. Anushree holds a 2008 Masters in Social Work from TISS, Mumbai, and a 2006 BA in Psychology, Sociology, and Economics from Christ University.
Anushree's first pregnancy experience with her son Kabir in August 2016 was mixed. When she saw Janhavi's positive birth experience in December 2016, she realized that pregnancy, birth, and the newborn phase have the potential to be joyous experiences.
After years of extensive immersion into this space alongside Janhavi, Anushree planned her second childbirth in exquisite detail, and thoughtfully made choices to ensure a positive birth. Her second birth experience with her daughter Mira in July 2021 was delightful. She remembers Mira's birth the way Aastrika Midwifery Centre hopes every mother will – with pride, joy, and a sense of fulfillment.
Through her experience with HungryTravellers, Anushree has built a deep understanding of the needs of Bangalore's mothers, the challenges they face, and their incredible strengths. She brings this context into her work at Aastrika Midwifery Centre, and works to ensure that expecting mothers are able to inform themselves, advocate for themselves, seek necessary help, and have an empowered, evidence-based birth. Anushree's vision is that every mother should be able to do what she did – go on her first vacation as a family of four at 6 weeks postpartum! 
Her profile photo was taken 24 hours after her daughter Mira was born.