WATER BIRTHING
Experience Water Birth in India's first Sensory Birthing Suite
Aastrika BIRTH Pools
Certified Practitioners
EXPERIENCE
FAQs
WATER BIRTHING
Water immersion during labour relaxes the mother-to-be and provides significant pain relief. Soaking in the warm water birth pool reduces stress hormones, speeds up labour, and helps mothers conserve energy. Water birthing in hospitals offers the mother her very own safe space to labour gently and intuitively, while still providing the complete safety of a hospital.
WATER BIRTH POOLS
Aastrika Midwifery Centre's Sensory Birthing Suites come equipped with labour and birth pools, which women can choose for water immersion and water birth delivery.
SOOTHING AMBIENCE
The mother-to-be can immerse in water and watch calming and restful pictures while listening to soothing sounds in our Sensory Birthing Suites.
Immersion in a water birth pool provides pain relief and relaxation.
Water birth is based on the concept of hydrotherapy – the therapeutic use of warm water for pain relief. Immersion in a water birth pool is a highly effective form of non pharmacological pain relief. The hydrostatic pressure of the water relieves the discomfort of the contractions and the warmth of the water relaxes the muscles, which leads to a feeling of overall relaxation. Being submerged in the water reduces anxiety which encourages labour progress. The mental and physical relaxation from labouring in a water birth pool provides substantial pain relief and a positive birth experience.
Water birth pools are specifically designed for water birth.
They are deeper and larger than a regular bathtub, and promote more freedom of movement and buoyancy. Movement in labour helps the baby descend and enables women to choose comfortable positions which reduces pain, allow gravity to assist, and create space in the pelvis. In the water, mothers can easily move about and change positions due to the buoyancy of water, which leads to a shorter labour while conserving energy. For mothers who choose to birth in the water, the water provides a cushioning effect which protects the perineum.
Water birth pools provide a private cocoon for the mother to labour in. In the pool, she is free to respond intuitively to her surges with minimal disturbance, in the shelter of this safe space. These conditions support the natural progression of labour, which reduces the need for medical interventions.
AASTRIKA MIDWIFERY CENTRE'S WATER BIRTH POOLS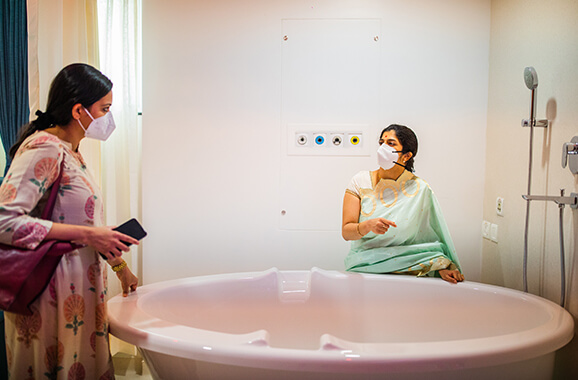 Specially Designed Birth Pools
Our labour and birth pools have been procured from Edel Immersys in the UK and are specially designed for water birthing in hospitals. They have numerous international standard features to maintain safety and comfort. The water birth pools are slip-resistant, have a wide rim to rest on, and have a seat step for entry and exit. Anti-skid flooring surrounds the water birth pool.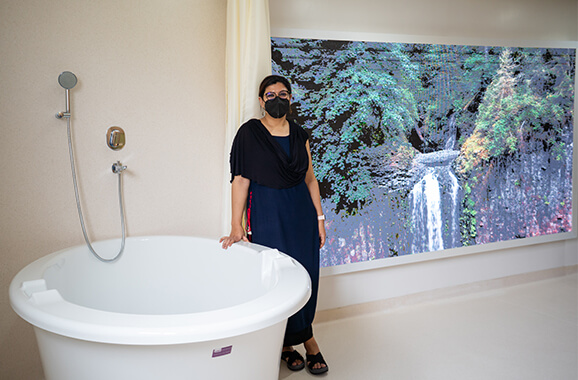 Designed for Infection Control
These water birth and labour pools are designed to promote utmost infection control. The birth pools come with single-use drain plugs and have no crevices anywhere, to ensure the prevention of bacteria development. At Aastrika, the water birth pools have a continuous supply of drinking-quality water, which can be set to the specific safe temperatures for water birth.
CERTIFIED WATER BIRTH PRACTITIONERS
Both our obstetricians, Dr. Jikmik Rupalee Jonak and Dr. Anupama Rohidekar, are Certified Water Birth Practitioners. They have completed the Waterbirth Certification and Education Course from Waterbirth International, under the guidance of internationally acclaimed expert
Barbara Harper.
Dr. Jikmik and Dr. Anupama prioritize the safety of every mother who enters the water birth pool, either for pain relief or for water birth delivery. They guide mothers on the appropriate time to enter the pool, safety precautions, and any contraindications.
As water birth can have risks, all mothers should first thoroughly discuss the risks and benefits with the doctors before selecting a water birth.
JOYFUL WATER BIRTHING AT AASTRIKA MIDWIFERY CENTRE
Almost every mother at Aastrika chooses to use the water birth pool for pain relief and relaxation in labour, and
some go on to birth in the pool as well.
We have seen remarkable effects from the water birth pool! Mothers whose labours became much faster in the soothing water. Mothers who found instant mental relaxation in the warmth. Mothers who within minutes of entering the pool became ready to push!
Aastrika Midwifery Centre's very first birth was a water birth! Our inaugural mother remembers her birthing experience with
a sense of pride, joy, and fulfillment.
FAQ's
Can you have a water birth in a hospital?
Yes, definitely! At Aastrika Midwifery Centre, you can use our water birth pools and give birth under the guidance of a Certified Waterbirth Practitioner, while still having access to all the emergency facilities of a multi-speciality hospital, provided you meet all safety criteria for a water birth.
What are the benefits of a water birth delivery in a hospital?
Water birth delivery is a safe experience at Aastrika Midwifery Centre, where the doctors carefully evaluate the risks for each mother. All the benefits of water birth – pain management, ease of movement during labour, increased flexibility to change positions, and a feeling of relaxation and safety – can be experienced during a water birth delivery at Aastrika Midwifery Centre.
You and your baby are continuously monitored by our health care team. Water birth delivery at Aastrika Midwifery Centre provides the additional benefit of immediate access to the facilities of a multi-speciality hospital, for the mother-to-be and baby, in case of an emergency. These facilities include an operation theatre, anesthesiologist, ICU (Intensive Care Unit), and an NICU (NewBorn Intensive Care Unit).
How much does it cost for water birth delivery?
At Aastrika Midwifery Centre, our delivery package includes full use of the Sensory Birthing Suite, water birth pools, and water birth delivery. There is no additional expense for families who choose to labour or birth in water.